ABOUT US
The founder of Nomade Palize, Mr Mozafari, originates from Iranian Kurdistan, where nomadic merchants hold long liaisons between the Middle East and Europe.
A Bridge between East and West
For many years, Mr Mozafari has lived in France. There he quickly realised that organic agriculture would be a major issue for the preservation of consumer health. He met stakeholders of the french organic sector, offering to provide traditional and natural products from his native country. Faced with a positive response, he has been able to develop the distribution of such products since the 2000's. However, to finalise his project it was necessary to convince Iranian farmers that producing traditionally and with natural methods was not enough to obtain the official organic certification. He was able to share with local producers the value of the "Bio" approach, making them understand that it was essential to have certification of authorised bodies, explaining that the purpose of global control standards ensured quality and traceability without the use of chemicals.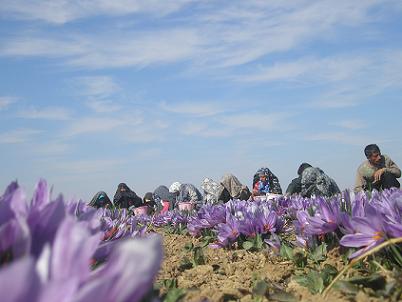 The collection of flowers is done manually before sunrise.
A committed and responsible actor
For each product and its area of supply, a technician or an agronomist will be recruited by NomadePalize to ensure the establishment of production campaigns and quality monitoring. This regular contact is a necessary resource for monitoring the defined projects.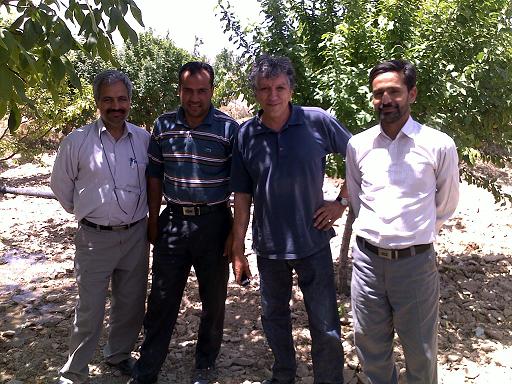 Founder of Nomade Palize, Siamak Mozafari (2nd from right) surrounded by Iranian partner producers and agricultural counsellor.
Our commitments to support local producers:
Technical support for the producers

Diversification of products and of the income of families

Improvement of cultural technical routes: producers supported by the counsellors recruited by Nomade Palize have established Lucerne cultures sheltered by date palms, thus allowing the increase of nitrogen inputs to the roots of the trees, limiting the drying of the soil and providing an additional resource of cattle feed.

Many irrigation programs to be put in place

Financed infrastructure, buildings, improved access paths, distillation units, etc.

We are very attentive to the respect of wage equality for equivalent positions between women and men. We also assure that no child is involved in the tasks related to our products.
© nomadepalize

2019